The Khalifa House Museum is an ethnographic museum managed by Sudan's National Corporation for Antiquities and Museums (NCAM), located within the historical area of Omdurman opposite the Mahdi's tomb. It was the residence of the successor of the Mahdi, Khalifa Abdallahi ibn Muhammad and the headquarters of the administration of the Mahdi State. The House was converted into a museum in 1928.
Exhibitions include an Arrol-Johnston motor vehicle, that was the first car in Sudan and one of eight survivors.
Photo: Western Sudan Community Museums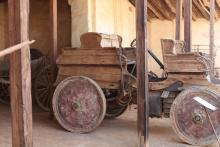 The Presidential Palace Museum is one of the important museums in Khartoum. It contains historical references to the Presidential Palace, the ruling periods of governments in Sudan, during the successive historical periods of Sudan's modern history. The museum also has many other archaeological and heritage collections. It is the first museum of its kind to refer to the rulers of Sudan from 1884 to 2007.