Abadan Petrol Station, built in 1927 in Abadan City, is considered the oldest petrol station in Iran. The station was first used to distribute and sell kerosene, but since 2017, it has been turned into a museum called the Abadan Gasoline House Museum. The museum contains a collection of works and objects related to the oil and oil industry. It also houses newspapers, letters, photos, old documents, and banknotes with images of refineries and oil installations.
Photo: Mehr News Agency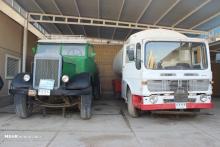 A preserved gas station with a few cars scattered around.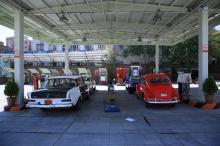 The Museum of Historical Automobiles of Iran s located on a land area of ​​22,000 square meters, of which 10,000 square meters is a covered space. At present, 45 cars, 2 carriages and 3 motorcycles are on display in the exhibition hall. The museum has an amazing collection of classic vehicles which were owned by the last Shah of Iran who was exciled and died in 1979.