Doc's Classic Car & Cycle Museum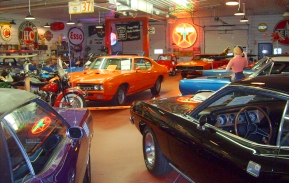 "Doc's Classic Car & Cycle Museum is packed with cool 60's muscle cars & a tasteful blend of various classic cars & motorcycles. The theme is set as you enter through the original bi-fold doors of a real 1938 Standard gas station that has been reassembled on one whole wall of the museum! The gas station is complete with the same original Standard sign lit up! On display is also an authentic 1928 Milwaukee Pump Works visible gas pump."
Display
Automobile
Motorcycle
Others
Info
Opening times: Monday & Thursday: 9 AM to 5 PM Tuesday & Wednesday: 9 AM to 6 PM Friday: 9 AM to 8 PM Saturday: 9 AM to 4 PM Sunday: 10 AM to 3 PM.
Address
W2709 State Highway 29
Bonduel, WI 54107
United States